Don't Overpay for NYC Storage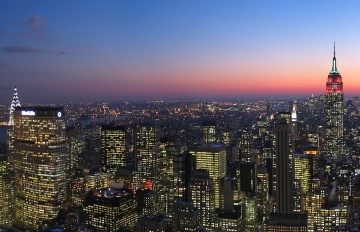 With real estate prices on the rise, New York City is becoming increasingly expensive to live in. Prices for renting apartments in NYC are skyrocketing and owning your own space has become a dream. What does this mean for personal storage? Simply put, it's going to be expensive. Many storage facilities in the heart of NYC can charge rates that will make you feel like you should be living in your unit! This is a problem considering that New Yorkers have likely used every nook and cranny of the space. Simply put, there is no room for family items and collectibles. Even if you do manage to find room, does the price per square foot you are paying in New York City justify storing items in your apartment?
"After I switched from storing my belongings in the city to A Space Place I started saving over $100 a month! It's worth the short drive to Melville!" - Mike, New York, NY
Though it may seem hopeless, there is a low-cost alternative to outrageous New York City storage prices: A Space Place Storage.
Convenient & Affordable
Even if you live on the outskirts of New York City, storage facilities located in the NYC area tend to charge NYC's premium prices. The difference is clear after just one look at the prices between us and New York City facilities. The savings aren't just large, they amount to hundreds of dollars per year! Plus, you don't have to compromise on location. Since both our Melville and Centereach locations are located within just a couple minutes of the LIE, we're a quick and easy ride from NYC. You won't have to deal with the traffic surrounding a NYC facility and you'll be saving a ton of money in the process!
"I don't need to access my unit very often, and prices for storage around here are high. So I make the trip out to A Space Place in Melville." - Rocky, Staten Island, NY
Parking can also be a real challenge for many storage locations in New York City. By virtue of being located on Long Island, A Space Place Storage is able to offer drive-up storage! Whether you are looking to store a car, tools, or heavy furniture, our drive-up units take the hassle out of moving large items. Simply drive your car through our 24/7-monitored gates and drive directly up to a unit. The time and energy that you will save by not having to carry items through a building will be worth the short drive from NYC! Hassle-free parking and no tolls along the way makes ASPS is the clear choice for huge savings and easy access.
You may be able to find a storage facility with similar units in NYC, but it all comes down to the price and value. Since you likely won't be traveling to your storage unit multiple times a week, why pay outrageously high prices for a unit in New York City? With the hundreds, or even thousands of dollars you save, you can afford to enjoy yourself more; or if you have even more items to store, put your savings towards a bigger unit. We have units large enough to store a car or even a 4 bedroom house! The days of endlessly searching for parking on a NYC street just to have to move for weekly street cleanings are over. Store with us and ensure your car stays safe!
Compare our prices to the competition
10x10 CC
Stop & Stor
American Self Storage
Safeguard Self Storage
Brooklyn

$325

117% more

expensive

$245

63% more

expensive

X

Queens

$310

107% more

expensive

$200

33% more

expensive

$221

47% more

expensive

Manhattan

X

X

$370

147% more

expensive
A Space Place Storage
$149.99
Save an average of 46%!
That's $1,542 per year!
24/7 Facility Access
As New Yorkers ourselves, we understand what it means to live in 'The City That Never Sleeps'. As such, our facility never sleeps either! When you choose A Space Place Storage, you'll have 24/7 access to your items, every day of the year. No restrictions, no hassles. Want to come and pick up your motorcycle on a Sunday morning? Absolutely! Maybe drop off holiday decorations on a weekday night? Of course! Christmas morning? Sure! You will never be limited to only accessing your items during office hours at ASPS (see office hours at the bottom of this page.) They're your items – get them whenever you need them.
Plus, what separates A Space Place Storage from the other storage facilities in the business is our dedication to climate-controlled storage. Frigid New York City winters? Blazing New York City summers? No problem! Since even ordinary storage units in NYC command high prices, the cost of climate-controlled units is astronomical! With A Space Place Storage as an option, there is absolutely no reason to pay those prices!
A Space Place Storage's Advantage
We like to think of ourselves as a positive example of the phrase, "having your cake and eating it too." Not only do we have the competitive prices that you want, we offer the space that you need when living in New York City. A Space Place Storage shows that storage doesn't need to be expensive or inconvenient.
When all is said and done, you just need affordable, safe, and quality storage for your prized belongings. With units in a variety of sizes, you are able to rent a unit with exactly the space you need. At A Space Place Storage, we would never require you to take more space than you need. On the same token, we are always looking to accommodate you, so upgrading to a different-sized unit is never an issue.
Call us toll free at 877-288-0454 to make an appointment to view the facility and understand what A Space Place Storage can offer you. We pride ourselves on achieving the highest level of customer satisfaction, so don't hesitate to pay us a visit!
"A Space Place offers so many different options when it comes to unit size and type. My climate controlled unit keeps my work equipment in top condition." - Frank, Massapequa, NY